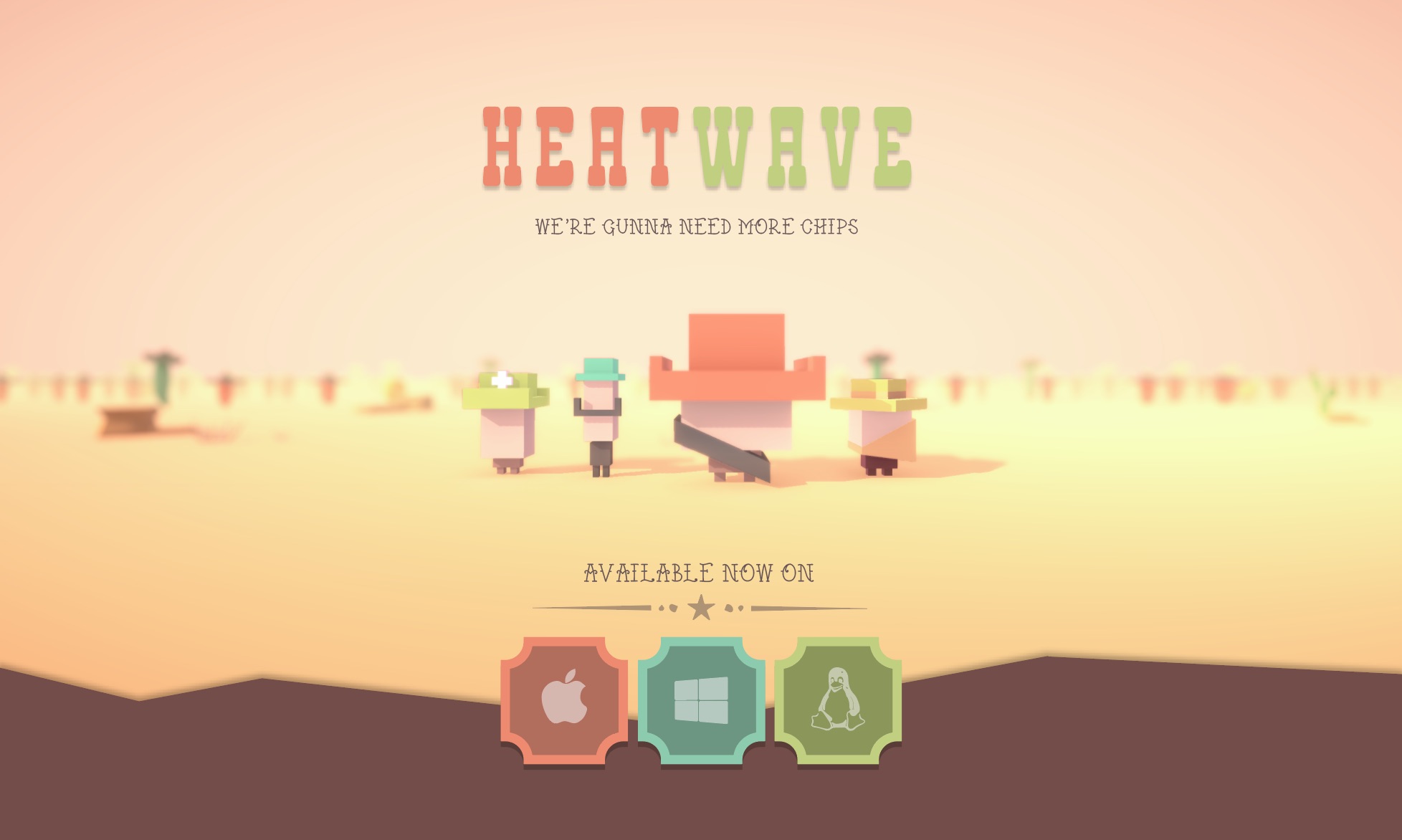 Heatwave
A downloadable game for Windows, macOS, and Linux
The West is Ablaze.
Heatwave is a light-hearted co-op zombie game where you and up to 4 friends battle an onslaught of sentient chili peppers to save the wild west.
The year was 1899, and it seemed that the wild west was coming to an end. But when Spicetown Industries discovered the animating power of Capsaicin238, things started to heat back up. An army of sentient chili peppers overran the salsa conglomerate and began to infiltrate the deserts, lagoons, and heartlands of the old west, turning it into a salsa-filled wasteland. It all came down to 1 to 4 online, co-op cowboys to save the world, and maybe, just maybe, the west they once knew.
Because Heatwave is in active development, there are definitely bugs, and features are subject to change. We're still adding maps, pepper species, weapons, and power-ups as we go!
Why Join the Alpha?
Play and stream Heatwave before anyone else
Participate in monthly leaderboard prizes
Automatic updates through the new itch.io client
Get every announcement first
Even more secrets and surprises inside!
Special Launch Week Bonus: Get Serrano (VIP) status in the discord if you join before December 4th!
How it works
Waves of chili peppers will rain down upon you
Shoot them, or die
If you get down, a friend can revive you
If that fails, you're back in (minus your guns) the next wave
If everyone gets down, welp partner, you're smoked.
Leaderboard
That's right partner, there's a leaderboard. What's more? The top player on the last day of every month gets to pick a new weapon to add to the game. Check out how you match up at the link below.
Features So Far
3 Unique chili pepper mutants:

Fresno Reds: These babies were the muscle of the Spicetown industrial complex. They are as numerous as they are dumb. Pro tip: spray and pray.
Serrano Strikers: Developed as an elite specialist in Spicetown's burgeoning private army, Serrano's are faster than a bronco with its tail on fire. They're also much stronger than their predecessors.
Habanero Bombers: Spicetown Industries really made a turn for the worse with this one. Utilizing the highly refined Capsaicin238 naturally occurring in habaneros, Spicetown developed a genetically modified, heat seeking sucide bomber. These little orange guys can spot you a mile away, and when they get close enough... boom.

Pro Tip: Wait till habaneros plant and let down their shield. You'll have about 5 seconds to defuse them with your hail of bullets, but if you can win the race, that sweet Capsaicin238 might just spawn you a power-up.

6 Unique Standard Guns

Magnum, Uzi, LMG, Shotgun, Capsaicin238 LMG, Capsaicin238 Shotgun.

6 Unique Power-Ups and Special Weapons

Grenade, Bomb, Grenade Launcher, Flamethrower, Capsaicin238 Rocket Launcher, Capsaicin238 Flamethrower

2 Unique Maps

Paso Diablo: A vast canyon filled badland with a reputation of chili colonies. What used to be the quiet western town of Rock Ridge can be seen now torn to shreds by an unending horde of the red devils.
Wildfire: A high-intensity, bite-sized map. Your gang was just chillin at their camp site, which they conveniently forgot to fortify, when suddenly, all hell breaks loose. You're left with nothing but a magic box which gives you random weapons, and peppers on all sides. How long will you last?
Upcoming Features
In-Level Capsaicin238 Infuser for Weapons (weapon booster)
Account-Level Progress and XP

Get better with every game
Unlock new guns and power-ups

Bosses
Turrets
More Guns
More Maps
More Peppers
Expansion of Narrative
Off Screen Indicators for Down Players
Lobby Chat
Controls
Aim at those spicy sons of bitches with your mouse
Use WASD to move (relative to where you are looking)
Click to shoot those god forsaken things dead
Pro tip: Hold shift to run
E to pick up and buy
E (hold) to revive (stand over a downed player)
| | |
| --- | --- |
| Status | In development |
| Platforms | Windows, macOS, Linux |
| Release date | Nov 27, 2018 |
| Rating | |
| Author | Lil Sumn Games |
| Genre | Shooter, Action |
| Made with | Unity, Blender, Audacity, Adobe Illustrator |
| Tags | Bullet Hell, Co-op, Funny, Local Co-Op, Local multiplayer, Multiplayer, Shoot 'Em Up, Western, Zombies |
| Average session | About a half-hour |
| Languages | English |
| Inputs | Keyboard, Mouse, Playstation controller |
| Multiplayer | Ad-hoc networked multiplayer |
| Links | Homepage, Leaderboard |
Download
Click download now to get access to the following files:
heatwave_v1.0.1_win.zip
79 MB
heatwave_v1.0.1_osx.app.zip
86 MB
heatwave_v1.0.1_lin.zip
89 MB
Comments
Log in with itch.io to leave a comment.
Like the clean aesthetic in the game. Glow in graphics is a must have. Nice work!